Mansions at Acqualina Sunny Isles Beach
Property Description
Mansions at Acqualina Sunny Isles Beach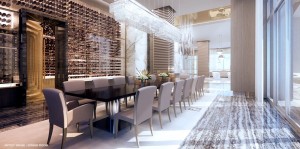 The Mansions at Acqualina is a new pre-construction project of oceanfront luxury condominium residences in beautiful Sunny Isles Beach designed by Cohen Freedmand Escinosa (CFE). The Mansions at Acqualina is located next door the world class and world renowned Acqualina Ocean Resort & Condominium Residences.
Acqualina is a stunning 47 story luxury oceanfront condo tower with only 79 private villa residences and a choice of 7 floorplan options. This Mansions at Acqualina is designed with both Mediterranean and contemporary influences, offers single floor 3, 4 and 5 bedroom floorplans and 2 story floor plans of 6 bedrooms and larger.
PRIVACY & SPACE
With only two residences per floor, each luxury mansion condominium at Mansions at Acqualina is a corner unit with spectacular wrap-around views of the ocean, beaches, Intracoastal Waterway and Greater Miami Beach. Price ranges for The Mansions at Acqualina homes are from approx. $5 million to $50 million for the top-of-the-line penthouse home which is now sold.
One of the prize features of every Mansions at Acqualina luxury residence is the 'flow-through' floorplan design. Each residence bosts an east to west 'flow-through' floorplan with rooms, balconies and terraces facing the ocean to the east and the Intracoastal Waterway to the west, allowing residents to enjoy sunrises over the Atlantic and sunsets over the Intra-coastal.
A private bridge connects residents of The Acqualina Mansions to the Acqualina Ocean Resort & Spa, allowing you to easily enjoy all of the additional services and amenities at the gorgeous and full service Acqualina Resort.
Greatness in art, architecture and lifestyle has always been a commitment at the Acqualina Resort & Spa on the beach and The Mansions at Acqualina take this to an even higher level.
Here you will discover lavishly appointed residences in an exquisitely tall, iconic building. The unparalleled amenities and world-class services include an elegantly designed, amenity-rich pool deck, breathtaking public spaces, eleven private outdoor sanctuaries for homeowners and thirteen exceptional indoor amenity areas.
INSPIRATION, COMFORT AND EMPOWERMENT
Entering your Mansion at Mansions at Acqualina gives you a distinct sense of pride. The mesmerizing ocean views are on display through the vast expanse of windows and the rooms are oversized and impressive. The meticulous planning which has gone into the floor plan has made these condos into homes. Whether you are hosting a formal event in your grand salon, a more casual get-together in the family room or cocktails on the terrace enjoying your summer kitchen and waterfall spa, your Mansion-in-the-Sky provides endless delights for you and your family.
Villa d'Acqua
3 / 4 Bedrooms
6.5 Bathrooms
Grand salon
Family Room Eat-In Kitchen
Staff room
Spa
Summer kitchen
4,609 sq. ft. of interior space
804 sq. ft. of terraces
Villa di Botticelli
4 -5 Bedrooms
6 Bathrooms plus 1 half
Grand salon
Family Room
Eat-In Kitchen
Staff room
Spa
Summer kitchen
4,609 sq.ft of interior space
804 sq.ft of terraces
Villa D'Uffizi
4 Bedrooms
6 Bathrooms plus 1 half
Grand salon
Family Room
Eat-In Kitchen
Staff room
4,849 sq.ft of interior space
555 sq.ft of terraces
Villa di Vecchio
5 Bedrooms
6 Bathrooms plus 1 half
Grand salon
Family Room
Eat-In Kitchen
Staff room
4,849 sq.ft of interior space
555 sq.ft of terraces
Penthouses at Mansions at Acqualina
Palazzo di Spiaggia
5 Bedrooms
7.5 Bathrooms
Grand salon
Dining room
Family Room
Pool
Eat-In Kitchen
Spa
Summer kitchen
Utility Room
Pantry/Storage Room
7,980 sq. ft. of interior space
3,089 sq. ft. of terraces
Palazzo di Sabbia
5 Bedrooms
7.5 Bathrooms
Private Pool
Private Spa
Summer Kitchen
Grand salon
Formal Dining Room
Family Room
Kitchen
Breakfast Room
Butler Room
8,488 sq. ft. of interior space
2,428 sq. ft. of terraces
Mansions at Acqualina – Amenities
THE GRANDROOM – Exclusively for homeowners, this lavish room is designed for dinners, cocktail parties, and functions.
FITNESS CENTER – Featuring state-of-the-art fitness equipment and design, residents can work out on their own for arrange for private training.
PRIVATE CINEMA – This glamorous movie theatre and media center has plush seating, uniquely graded for optimal viewing.
POOLSIDE PRIVATE CABANAS – In addition to the sumptuous, well-attended pool deck lounges, there are 14 luxurious cabanas available to homewoners by reservation.
SUNSET REFLECTING POOL AND FIREPIT – At the end of the day, and into the night, residents can relax outdoors by the attended sunset relfecting pool and firepit.
HAMMAM SPA- This stunning and authentic example of exotic Hammam spa design enhances the luxury lifestyle at The Mansions.
CHILDREN'S CENTER – Computers, x-box & other electronic gaming, and ample sports equipment & activities makes life at the Mansions exciting and action-packed for children.
VIRTUAL GOLF – Residents can play the world's most extraordinary golf courses without leaving home.
OUTDOOR DINING & BAR – The picturesque breakfast terrace and romantic, beachside dining & bar are completely unique to The Mansions.
DOG PARK – Even the family pet lives in luxury at The Mansions.
Architect –Cohen Freedmand Escinosa (CFE)
About CFE Architects
A Multi-Disciplinary Partnership, which dates back to 1961, the architectural firm consists of three principals (Stuart Cohen A.I.A., Lawrence Freedman A.I.A., and Guillermo J. Encinosa A.I.A.); three associates (Sandy Peaceman, Arturo Robinson, and Iliana Lince); and professional staff. Established engineering consultants, who are selected on a project to best meet a clients needs, also augment CFE's Staff.

Though the firm has successfully completed a wide range of commercial installations (retail, healthcare, hospitality, industrial, and institutional projects), they specialize in High-Rise and Mid-Rise apartment projects (both rental and condominium). The firm practices primarily in the Southeast Florida area. Recently, CFE has expanded into other markets including Sarasota, Tampa, El Salvador, and Costa Rica. CFE provides complete architectural services from schematics to construction administration.

CFE takes pride in their continuing relationship with their clients, like Martin Margulies, who dates back to the early days of the firm. This list of present clients includes national firms such as The Related Group, Property Marketing Group (PMG), and Greystar as well as prominent local developers including Stiles Development, the Trump group and the Adler Group. CFE headquarters is located in Miami Lakes which is centrally located for easy access throughout the South Florida area.
Property Location
The location is of the community and not of individual properties