The Isles of Collier Preserve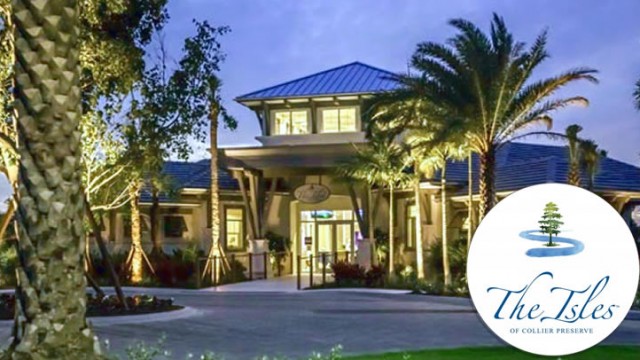 Property Description
The Isles of Collier Preserve is found just minutes away from Downtown Naples, nestled amongst the beautiful natural settings of South West Florida. This private destination boasts over 2,400 acres, of which half has been dedicated to nature preserves, natural habitat and sparkling lakes.
The Isles of Collier Preserve is the stunning canvas where Minto are constructing elegant homes which feature an updated 'Classic Coastal Living' design. There will be 1,600 colorful residences built at The Isles of Collier Preserve including single family homes and coach homes. Stunning nature and water views will become the envy of your friends. Ancient pine and cypress create shaded avenues and mangrove forests add a special tranquillity.
The 'nature inspired' clubhouse will be the center of lifestyle and wellness amenities at The Isles of Collier Preserve, whilst the the adjoining Rookery Bay Nature Preserve and the private yacht club and marina will offer members direct access to the Gulf of Mexico. If you prefer being closer to the shore there are miles of scenic kayak and hiking trails to enjoy.
New homes at The Isles of Collier Preserve
Coach Homes – Sabal Collection
 Azalea
1,621 a/c square feet
2,479 total square feet
2 bedrooms + Den
2 bathrooms
 Oleander
1,987 a/c square feet
2,591 total square feet
2 bedrooms + Den
3 bathrooms

Orchid
2,011 a/c square feet
2,615 total square feet
2 bedrooms + Den
2 bathrooms
 Poinciana
1,952 a/c square feet
2,736 total square feet
3 bedrooms
2 bathrooms
 Poinciana Retreat
2,077 a/c square feet
2,861 total square feet
3 bedrooms
2 bathrooms
 Oleander Grande
2,160 a/c square feet
2,894 total square feet
2 bedrooms + Den
3 bathrooms
 Orchid Grande
2,169 a/c square feet
2,950 total square feet
2 bedrooms + Den
2 bathrooms
Coach Homes – Cypress Collection
Oleander
1,987 a/c square feet
2,591 total square feet
2 bedrooms + Den
3 bathrooms
 Orchid
2,011 a/c square feet
2,615 total square feet
2 bedrooms + Den
2 bathrooms
 Oleander Grande
2,160 a/c square feet
2,894 total square feet
2 bedrooms + Den
3 bathrooms
 Caribwood
2,214 a/c square feet
2,873 total square feet
3 bedrooms + Den
3 bathrooms
 Orchid Grande
2,169 a/c square feet
2,950 total square feet
2 bedrooms + Den
2 bathrooms
 Hibiscus
2,571 a/c square feet
3,175 total square feet
3 bedrooms + Den
3 bathrooms
 Hibiscus Retreat
2,781 a/c square feet
3,385 total square feet
3 bedrooms + Den
3 bathrooms
 Hibiscus Grande
2,750 a/c square feet
3,484 total square feet
3 bedrooms + Den
3 bathrooms
 Hibiscus Grande Retreat
2,960 a/c square feet
3,694 total square feet
3 bedrooms + Den
3 bathrooms
Single Family – Palmetto Collection
 Gardenia
2,016 a/c square feet
2,728 total square feet
2 bedrooms + Den
2 bathrooms
 Ixora
2,163 a/c square feet
3,083 total square feet
2 bedrooms + Den
2.5 bathrooms
 Alamanda
2,225 a/c square feet
2,992 total square feet
2 bedrooms + Den
2.5 bathrooms
 Wisteria
2,390 a/c square feet
3,111 total square feet
3 bedrooms + Den
2.5 bathrooms
 Periwinkle
2,413 a/c square feet
3,302 total square feet
2 bedrooms + Den
3 bathrooms
 Bougainvillea
2,624 a/c square feet
3,453 total square feet
3 bedrooms + Den
3 bathrooms
Single Family – Mangrove Collection
 Pimento
2,333 a/c square feet
3,241 total square feet
2 bedrooms + Den
2.5 bathrooms
 Jacaranda
2,558 a/c square feet
3,430 total square feet
3 bedrooms + Den
3.5 bathrooms
 Jasmine
2,629 a/c square feet
3,811 total square feet
2 bedrooms + Den
2.5 bathrooms
 Jasmine Grande
2,933 a/c square feet
3,811 total square feet
2 bedrooms + Den
2.5 bathrooms
 Ginger
2,772 a/c square feet
3,894 total square feet
3 bedrooms + Den
3 bathrooms
 Camellia
2,887 a/c square feet
4,106 total square feet
3 bedrooms + Den
3 bathrooms
 Ginger Grande
3,094 a/c square feet
3,894 total square feet
3 bedrooms + Den
3 bathrooms
 Plumeria
2,781 a/c square feet
4,049 total square feet
2 bedrooms + Den
3.5 bathrooms
 Camellia Grande
3,153 a/c square feet
4,106 total square feet
3 bedrooms + Den
3 bathrooms
 Lantana
4,002 a/c square feet
5,658 total square feet
3 bedrooms + Den
3 bathrooms
 Lantana Grande
4,327 a/c square feet
5,658 total square feet
3 bedrooms + Den
3 bathrooms