Harmony Community in St Cloud
Property Description
The Harmony Community is a certified Green Sustainable community located in Central Florida.
Harmony is located in St Cloud just a short drive South of Kissimmee, 29 miles from Disney and only 35 miles from the Atlantic beaches at Melbourne. Planned around two lakes and the Harmony Golf Preserve, these new homes at Harmony offer a wonderfully serene ambiance, great schools and easy access to the bright lights of Central Florida.
As Central Florida's largest green-certified community, it's not just the grass that's greener on our side of the fence.
New Homes at Harmony Community
There is a selection of quality builders at Harmony, whom together provide an excellent choice of new homes.
Situated on old Florida natural habitat, the Harmony Community was developed with the idea of balance, nature, and community in mind. Home to residents, pets, wildlife and a great environment, Harmony offers a great lifestyle and breath-taking scenery.
Hosting both a community school and high school, Harmony has a great family feel that is difficult to replicate. With great amenities and a stunning golf course, the community provides an everyday escape from ordinary living.
The benefits of living in harmony with nature
As advocated by the Harmony Institute, we believe that human health and well-being is enhanced by the regular interaction of people, animals and the environment. Harmony encourages pet ownership and provides for their needs, too. Our goal is to maintain 70 percent of Harmony as open space. Significant plots and corridors of open space throughout the community assure that habitat areas and parks are within a short walk of every home. Miles of trails, nature-based amenities and a professional on-site conservation program all serve to facilitate the experience of living in Harmony.
The opportunity for healthier lifestyles
Harmony's 12.5-mile network of connected paths not only provide ongoing contact with nature but they also offer safe avenues away from street traffic for invigorating walks, jogs and bike rides. Community-owned boats, athletic courts and fields, a community activities program and an 18-hole championship golf course that's also a Certified Audubon Cooperative Sanctuary provide a full roster of mentally and physically stimulating things for all ages to enjoy. The compact, intimate design of Harmony also means that retail shops and services are within easy walking distance of each neighborhood. So, doing errands "on foot" is both convenient and enjoyable. Harmony is also one of the few communities in Central Florida where students in all grades can easily walk to class without crossing a major street. All this outdoor activity and freedom promotes contact and interaction among Harmony's residents and helps build bonds between neighbors and creates a feeling of shared interest.
A strong sense of place and community
That immediate "we're home" feeling you get the moment you enter Harmony's neighborhoods is in part a result of their neo-traditional design that bring back so much of what was right about America's small towns. You'll find broad sidewalks, welcoming front porches, short set-backs from the streets and, with many plans, rear garages with off-street entry. The architecture and landscape are inspired by the native Kissimmee Prairie and Florida flat woods vegetation and the ranches and settlements of Central Florida in an effort to be in balance with its larger, regional setting. Community identity is further enhanced by natural and man-made boundaries and landmarks. Our many seasonal events — such as the Dark Sky Festival, Harvest Festival and Winter Carnival — capture the essence of life in Harmony, with its small town warmth and friendliness, and we are pleased and proud to share these community celebrations with the general public.
Access to community features
As with any vibrant town, there are distinctive neighborhoods in Harmony. Our mix of housing styles and sizes creates a healthy and dynamic economic and social balance. Open-space assets such as Buck Lake and Cat Lake as well as the Harmony Golf Preserve are carefully protected treasures, but they are not cut off from the community by private lots on their shores or boundaries. These visual and recreational resources are visible from our streets and available to appreciate.
In recapturing the charm of the American small town, we're following the principles of "smart growth," creating a proper place for everything: a pedestrian-friendly Town Square, houses and town-homes connected by parks and pathways, tree lined roadways, golf and recreation areas leading to protected space. Harmony is, in fact, not just a single place. Rather, it is "a place of many places," where people can live, play, learn, relax and connect with each other through their daily activities. Just like any vibrant community, each of Harmony's charming neighborhoods presents a distinct style and personality. It is the blending of these diverse and dynamic areas that create a true hometown feel, the rewarding "sense of place" you'll find in Harmony.
An environmentally intelligent community deserves superior schools. In Harmony, children and teens from their preschool years all the way through high school have convenient access to top-rated schools, state-of-the-art classroom technology and excellent teachers. Remember when you walked to school safely? So do we…our schools are within walking distance of each neighborhood.
Part of Harmony's philosophy of creating a modern community that develops and maintains a strong connection with nature is the belief in environmental stewardship.
And whether you call it "green" or "eco-friendly" or "sustainable," this is a community that meets the needs of the present without compromising the needs of future generations. Harmony is built to minimize its impact on the environment and to conserve energy and resources for its homeowners. Harmony earned its Green Development certification from the Florida Green Building Coalition in 2008. Their criteria for this certification are so strict that when Harmony achieved this honor, it was one of the first communities to do so.
And we met those high standards by developing Harmony with community-wide practices that follow the principles of Reduce, Reuse and Recycle.
• A land use mix that gives residents the potential to meet most daily needs within a short distance of their homes, making walking, cycling or neighborhood type vehicles a viable first choice for transportation
• More than 7,000 acres of open space
• Irrigation controls on public and private lands conserve water by responding to landscape growing conditions
• Extensive use of native plants and grasses in landscaping
• Two 500+/- acre natural lakes with protected shorelines
• Community owned boats with green propulsion
• Dark Sky-compliant lighting to reduce glare, eliminate wasted light and preserve our natural star-filled sky
Harmony's homes provide real owner value, too. Independent verification of their energy-efficient designs and use of environmentally-friendly materials is your assurance of quality and savings. In partnership with our builders, every home in Harmony is built to — at a minimum — the "Environments for Living" standards for durability, indoor environmental quality and energy efficiency. This can save homeowners up to 30% on utility costs compared to a home built just a few years ago. We even have some "net zero" homes that generate as much electricity as they use.
Today, Harmony is Central Florida's largest green-certified community. But in order for Harmony to function as a truly "green" town, we encourage our residents to make a conscious effort to environmentally manage their homes, yards, and neighborhoods. Here are some tips specifically for Harmony residents from the University of Florida.
"Harmony is designed with the idea that people and nature can coexist"
Without a doubt, Harmony's choice of homes provides timeless style, eco-friendly features and unmatched value. But what turns homes into a community? It's a sense of belonging to something that reaches past your front door and beyond the next block. And that feeling is everywhere in Harmony.
It's in the "room to roam," with every home in Harmony no more than a short walk from a park or open space. It's in the many facilities set aside for outdoor activities, community events and family adventures.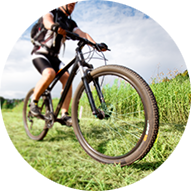 Trails and pathways
12.5 miles of them that provide avenues away from the streets for walking, biking and jogging, both within the community and out into the nature preserve. Parks and Playgrounds – Neighborhood-sized pocket parks and playgrounds give children room to play while providing adults with places to meet and catch up on "what's new." There's even a dog park complete with dog wash.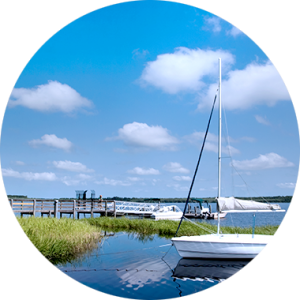 Buck Lake
The pristine natural waters of Buck Lake allows for fishing or just a quiet paddle, whatever floats your boat. In fact, there's a community boat program.
Water Fun – If the splash pad at Lakeshore Park doesn't get you drenched, you can take the plunge at the Ashley Park Swim Center and the Harmony Swim Center, complete with wading pool, sun deck and changing area.
Community Garden
The Garden at Harmony provides an opportunity for members of the Harmony community to experience gardening creating a tranquil space for gardeners to work together and learn from each other. It also educates gardeners and other residents on principles and practices while providing a place for all members of the Harmony community, including families, singles, seniors and youth, to enjoy the benefits of cooperative learning and working through gardening.
Golf

Harmony Golf Preserve, a Troon Golf-managed facility, is truly one of the finest golfing experiences you are likely to find in Florida – all within a short distance of your accommodations. You'll have the opportunity to play on the finest playing surfaces, experience incredible guest service, enjoy unmatched amenities and take pleasure in exquisite dining. As the only Johnny Miller-designed golf course in Central Florida that offers a challenging game to players of all skill levels- a 7,428 yard, 18-hole signature course. Designed from the start to serve first as a fully protected environmental preserve, the Preserve was built on a 260 acre wildlife preserve and has earned certification as an Audubon Cooperative Sanctuary, achieved only by courses that maintain the highest degree of environmental quality.
Retirement
Harmony is honored to have been recognized in Where to Retire magazine's "The Short List: 50 Best Master Planned Communities in the United States."
In 2011, Where to Retire magazine took their previous "100 Best Places to Retire" list and narrowed the criteria, producing a list that was even more selective…and more competitive. In compiling this new list, the editors of Where to Retire decided to focus on "those master-planned communities that are amenity-rich with recreation and activities to keep residents fully engaged." They recognized that even among people of widely diverse interests, retirees place a high priority on a sense of community that fosters friendships and fills social calendars.
Town Square Market Place
In the sleepy towns of New England, it was the village green. In the Southwest it was the plaza. In the farm communities of the Midwest it was the central square. But almost every All-American town in those days-gone-by knew the importance of a public space that would serve as the center of all activity for the residents. Main roads would come together there. And so would the lives of the people. True to that heritage, Harmony has Town Square Marketplace. Its street-level stores and shops serve as both the entrance to our community and the favorite gathering place. It's our quintessential Main Street, where you'll bump into your neighbors throughout the day picking up a few necessities at the market, or selecting a nice wine for dinner.
And everyone savors the delight of attending the many festivals, community celebrations and outdoor concerts that are staged there.
Restaurants
Every small town has a special place where locals meet and eat. Harmony is no exception.
Combining old Florida elegance, a comfortable ambience, and artisanal expressions of distinctive cuisine, Graze will be savored by patrons addicted to intricate flavors at its true value. A passion for quality, paired with key select, local ingredients makes for a master of simple tastes and tantalizing taste buds.
Property Location
The location is of the community and not of individual properties